News, Events & More
Join Now! USNA NoVA Social and Mid Support Committee
Posted: 1/19/2022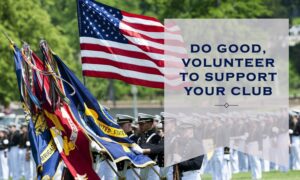 Special Announcement! New Initiative to Introduce Club Committees!  Read more and sign up to get involved. Our leadership team is announcing an initiative to restructure our Club with the goal of making our events more successful and giving parents a chance to get to know each other better. We believe this initiative will strengthen and rejuvenate our Club.  
In short, we would like to establish committees to support our special events moving forward.  
Committees? Why are we doing this?
 After two years of working around Covid, we have the opportunity to look at how we have done things in the past and improve them. Additionally, with the Class of 2022 about to graduate, we will also be saying farewell to some key members of the board.  
Don't we have a board?
  Yes. The board will remain in place to ensure the Club is fulfilling its mission, and we will work with the committees to ensure the necessary support is available.
You may not see it, but your board members and class representatives do a lot more than send periodic emails. The bulk of the planning and running our events has been completed by a few key players, and to ensure the activities will take place in the future, we need to begin identifying parents who can help as we move forward.
What will the committees do?
  The committees will spread that workload, and they will each rely on volunteers to make our key events successful, so we are asking parents to consider signing up for our committees. Your engagement will be flexible, so you can work around your schedule throughout the year, yet important for supporting our Club's members and most importantly our Mids. 
What kinds of committees?
  We believe the best approach would be to establish functional committees, specifically a Social Committee for tailgates, watch parties, and other new social events (TBD); and a Midshipman Support Committee for events like the Dark Ages Care Packages, Welcome Aboard and I-Day events (i.e., support of incoming Mids, new Mids, and seasoned Mids).  This approach, using broader multi-event committees, may also spark some new ideas and events for the Club by giving members a chance to tailor the Club's activities and align them better with what our Mids and their families need. 
How can I help? Who can join a committee?
  Our Club is run entirely by volunteers, so any member can be on a committee. Of course, you can sign up for more than one committee, if you wish. Or you can sign your better-half up for one or both committees, to get some quiet time at home, again, if you wish.
Where can I learn more?
 Watch your email for an upcoming announcement regarding the Dark Ages Package event, which will take place next month. At the event, we plan to discuss the proposed committee structure with our membership, ask for suggestions, solicit volunteers, and begin charting a way forward for a reinvigorated, post-pandemic USNA NOVA Parents Club, one that will better support our Mids and their families.  
What are the next steps?
 With the New Year among us, if you know now that you would be interested in being part of one of our committees, please sign up. The following link will take you to a Sign-Up Genius page where you can join a committee: https://www.signupgenius.com/go/10C0D4EAAAC2EA2FACE9-club 
We presume the committee structure will evolve, so if you have any ideas for committees, we will always welcome hearing them.
Thank you for taking the time to read this. Hopefully you will consider joining a committee!   
Join Us at our 2021 Navy-Notre Dame Watch Party!
Posted: 10/29/2021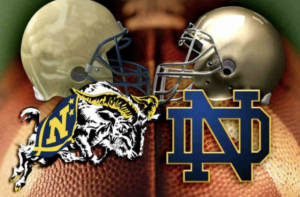 Greetings USNA NoVA Parents Club Members!
We'd like to invite club members and families to join us at Valor Brewpub in Washington DC for our annual Navy-Notre Dame Watch Party. This year we're teaming up with the Greater Washington DC USNA Alumni Chapter to bring the spirit and cheer on the Midshipmen as they take on the Fighting Irish in the 94th playing of the rivalry game on Saturday, November 6th.  Gathering starts at 3pm. Kick-off is at 3:30pm.
Valor Brewpub is located at 723 8th Street SE, Washington DC.  Street parking is available and the pub is a 5-10 minute walk from the Eastern Market metro station (Blue, Orange, and Silver lines).  This veteran-focused pub is located immediately across the street from Marine Corps Barracks, 8th and I.  We look forward to seeing our mid families and catching up!
Please RSVP on our Facebook page at: https://fb.me/e/5KEiQsYt0 to let us know if you're in!
 Go Navy! Beat Notre Dame!
Home Opener Tailgate! Go Navy! Beat Marshall!!
Posted: 9/1/2021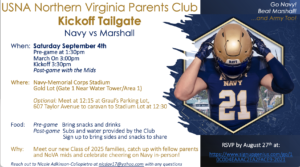 Attention USNA NoVa Families!
Join us for our annual Kickoff Tailgate on Saturday, September 4th. Pre-game at 1:30pm, March On 3:00pm, Kickoff 3:30pm, Post-game with the Mids. Please RSVP so we can order enough subs to feed all. Sign up to bring snack or sides or help with tailgate set up (parking pass holders, tables, tents) Check out our Facebook page to RSVP and for more details We'll be set up in the Gold Lot near Gate 1 and the water tower.
Go Navy! Beat Marshall!!
Welcome Aboard! Class of 2025 Picnic
Posted: 5/11/2021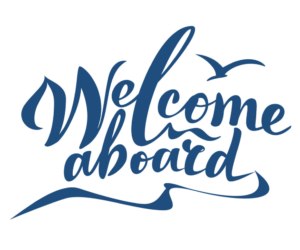 Please join us as we welcome incoming USNA Class of 2025 plebes, NAPS, foundation students and their families from Northern Virginia to our community!
We will be holding our annual Welcome Aboard Picnic on June 19th from 12pm-2pm at the Shouse Village Community Center at 1432 Towlson Road in Vienna, Virginia 22182. Join us for BBQ and lots of useful information for incoming students and parents! It's a great opportunity to meet fellow classmates and local families.
During our Q&A sessions, we'll provide an overview of our club and activities, speak to life as a MID parent and what to expect, and answer questions new families may have. Incoming midshipman candidates will have the opportunity to meet with fellow classmates and get some advice from current midshipmen.
More information can be found on our USNA Welcome Aboard Class of 2025. RSVP by June 12th to Beth Casey at beth.casey@apcela.com. Current NoVA club members and midshipmen – please come and share your experiences with the Class of 2025. Summer Whites for the mids please!
To register for our club and see our listing of annual events, see our registration page. You can also download and mail in our registration form. Membership_Registration_Form_Final[2021].
BZ Class of 2021!
Posted: 4/11/2021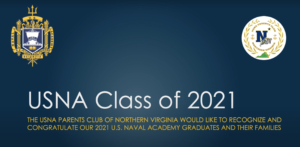 On April 8th, our Club held its annual Firstie Recognition Dinner recognizing the twenty-four 1/C midshipman from Northern Virginia that will commission as officers in the US Navy and Marines on May 28th. The Firsties received dinner on the Yard and flags flown at the Pentagon on June 29, 2017 in honor of I-Day for the Class of 2021.
We were fortunate to have retired USN Vice Admiral Joseph Tofalo, a USNA '83 graduate, speak to the class on topics ranging from advice he'd offer as they embark on their naval careers, trusting your gut, the value of self-assessment and motivation through tough times; to how to approach work-life balance, perspectives on leadership and seizing the opportunities and experiences that lie ahead.
A special thanks to Shannon and Steve Rodock, Mark Baker and Ellen Lokker for organizing and MC'ing the event.
Congrats to our mids and their families! BZ Class of 2021!
USNA Drum & Bugle Corps Welcomes Class of 2025 Candidates
Posted: 3/18/2021
Attention Midshipman Candidates of USNA Class of 2025! The USNA Drum and Bugle Corps will be hosting a Facebook live session on their page at https://www.facebook.com/usnadb at 8pm EST on May 13, 2021. Directors and staff will be available to answer questions from incoming candidates and their parents concerning D&B and/or other music programs at USNA.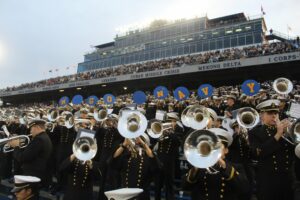 Become a Part of the Tradition. As the oldest active drum corps in the nation, USNA D&B has a storied tradition of musical excellence in support of the Brigade of Midshipmen, and they are eager for the Class of '25 to join their ranks in continuing that tradition.
How to Connect. Anyone who has attended a Navy football game can attest to D&B's energy, and it is our plebe class that especially drives that effort. We are seeking candidates who are passionate about music and have great overall enthusiasm. Instruments in D&B include trumpet, mellophone, baritone, trombone, tuba, drums, and pit (xylophone, marimba, auxiliary percussion, etc.) While past experience playing these instruments is helpful, it is important to note that candidates need not have experience with any of these instruments to be a member of D&B.
If a candidate is interested in an early audition and joining our team before I-Day, we encourage them to reach out to our director, Mr. Jeff Weir (weir@usna.edu), or our assistant director and percussion director, Dr. Matthew Halligan (mhalliga@usna.edu). Candidates can also opt to wait and audition during Plebe Summer.
Go Navy! Beat Army!
Posted: 12/6/2020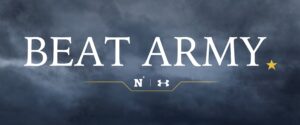 As we head into Army-Navy week and look forward to the end of the fall semester, NoVA PC wishes our mids and families the best for the holiday season and time together at home. Although we won't be cheering on the football team in-person with other Navy families this year, we know collectively there will be a lot of virtual spirit come game day.
If you haven't seen some of the spirit spots put out by USNA, check out this #GoNAVY spirit video along with the making of magic uniform reveal filmed in the chilly Severn River in November. The USNA Parents Community will also be holding a series of events during 2020 Army Navy Virtual Spirit Week from December 7 through December 12. Keep an eye on Facebook and Instagram @usnaalumni accounts for a chance to win prizes throughout the week. Learn more at  https://www.usna.com/events/army-navy
Finally, as we look forward to 2021 we hope to get together again as a club early in the new year. If you'd like to get involved, we are currently looking for a volunteer to help with planning and/or hosting our Dark Ages Care Package event in February. We'll get together for a potluck and assemble care packages to be delivered to our mids on the yard. Please reach out to Nicole Adkinson-Calopietro if you're interested in lending a hand. 
Help Support the Brigade During COVID-19
Posted: 11/24/2020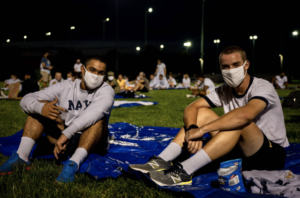 USNA thanks those who have supported its Midshipman Activities Fund fundraising effort! All gifts to the Naval Academy support extracurricular activities, recreational equipment and other programs to boost Brigade morale–a particularly important goal in the COVID-19 environment. With your donations Midshipmen have access to fitness equipment from BeaverFit USA, attend movie nights with a big screen and projector provided by USAA and other activities to keep spirits up. MAF has raised over 40% of our $75,000 goal. Make your gift today! The MAF initiative through Give Campus has been extended to December 12, 2020. Learn more at: MAF Give Campus Site & Video
2020 Parent Club Officer Conference Presentations Available
The 28th annual USNA Parent Club Officer Conference went virtual in October with over 90 participants attending over 3 days.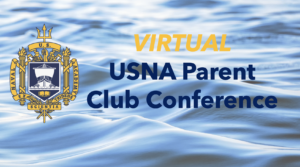 Superintendent Buck and Commandant Buchanan provided updates on the brigade. Other members of the USNA leadership team provided overviews and answered questions on service selection, brigade medical and USNA supply and operations. Videos and presentation materials can be found on the 
Parent Club Officer Conference
webpage. If you have any questions, don't hesitate to reach out to club leadership.
Keep the Navy Spirit Strong!
Posted: 11/9/2020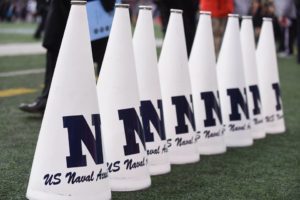 In these socially distant times, we'd like to strengthen our connections and keep the Navy spirit strong! Although our mids may be on the Yard more, we know they're stating highly engaged in sports, clubs and extracurriculars.
Our club is in the process of gathering info on our NoVA mids. Please check your email and let your class reps know what activities, sports, extracurriculars and/or clubs your son or daughter is participating in. Also, please feel free to post any special events or competitions your mid may have on our Club Facebook Page so the community can give a virtual shout-out or high five to your mid!