USNA Drum & Bugle Corps Welcomes Class of 2025 Candidates
Posted: 3/18/2021
Attention Midshipman Candidates of USNA Class of 2025! The USNA Drum and Bugle Corps will be hosting a Facebook live session on their page at https://www.facebook.com/usnadb at 8pm EST on May 13, 2021. Directors and staff will be available to answer questions from incoming candidates and their parents concerning D&B and/or other music programs at USNA.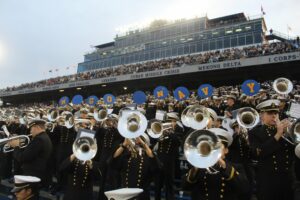 Become a Part of the Tradition. As the oldest active drum corps in the nation, USNA D&B has a storied tradition of musical excellence in support of the Brigade of Midshipmen, and they are eager for the Class of '25 to join their ranks in continuing that tradition.
How to Connect. Anyone who has attended a Navy football game can attest to D&B's energy, and it is our plebe class that especially drives that effort. We are seeking candidates who are passionate about music and have great overall enthusiasm. Instruments in D&B include trumpet, mellophone, baritone, trombone, tuba, drums, and pit (xylophone, marimba, auxiliary percussion, etc.) While past experience playing these instruments is helpful, it is important to note that candidates need not have experience with any of these instruments to be a member of D&B.
If a candidate is interested in an early audition and joining our team before I-Day, we encourage them to reach out to our director, Mr. Jeff Weir (weir@usna.edu), or our assistant director and percussion director, Dr. Matthew Halligan (mhalliga@usna.edu). Candidates can also opt to wait and audition during Plebe Summer.
«
Go Navy! Beat Army!