BZ Class of 2021!
Posted: 4/11/2021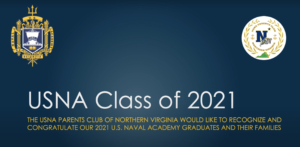 On April 8th, our Club held its annual Firstie Recognition Dinner recognizing the twenty-four 1/C midshipman from Northern Virginia that will commission as officers in the US Navy and Marines on May 28th. The Firsties received dinner on the Yard and flags flown at the Pentagon on June 29, 2017 in honor of I-Day for the Class of 2021.
We were fortunate to have retired USN Vice Admiral Joseph Tofalo, a USNA '83 graduate, speak to the class on topics ranging from advice he'd offer as they embark on their naval careers, trusting your gut, the value of self-assessment and motivation through tough times; to how to approach work-life balance, perspectives on leadership and seizing the opportunities and experiences that lie ahead.
A special thanks to Shannon and Steve Rodock, Mark Baker and Ellen Lokker for organizing and MC'ing the event.
Congrats to our mids and their families! BZ Class of 2021!
«
USNA Drum & Bugle Corps Welcomes Class of 2025 Candidates